Occupational Health & Safety
Our commitment
TAV Macedonia DOOEL is a company dedicated to providing occupational health and safety to all its employees, as well as to its customers, and business partners.
Our plan
To meet our commitment, TAV Macedonia DOOEL shall work on:
Continuous improvement of occupational health and safety by placing transparent, meaningful, and measurable objectives for fulfilling our vision to eliminate any possible incident.

Implementation and maintenance of occupational health and safety management systems.

Risk Management in occupational health and safety in decision-making process.

Providing safe and healthy environment through the implementation of systems for safe work, equipment, tools, installations, plants, eliminating unsafe working conditions and equipment.

Conducting risk assessment for all work activities and the implementation of adequate risk control measures to minimize or eliminate risk.

Reducing the risk of occupational diseases and accidents at work through programs for occupational health and safety management and through integrated measures in the regular process activities.

Compliance of work with all occupational health and safety related national laws and bylaws, as well as with international standards and recommendations.

Employees to receive all necessary information, instructions, training, supervision, and means to meet the requirements of occupational health and safety.

Developing competence of personnel in terms of occupational health and safety through effective training and leadership at all levels in the company.

Maintain effective communication with all employees, customers, business partners and suppliers to understand their responsibilities in terms of occupational health and safety.

Ensuring efficiency in reporting incidents, appropriate monitoring and measuring the effectiveness of the functions of occupational health and safety.

Development of overall prevention policy which shall cover the technology and organization of work, working conditions, social relationships and the influence of factors related to the working environment.

Continuous improvement of TAV Macedonia occupational health and safety policy through regular control by management to achieve sustainable development and success of the company.
Our expectations
Through the implementation of this policy, TAV Macedonia DOOEL expects to be acknowledged as a leading company in the field of occupational health and safety.
Useful Information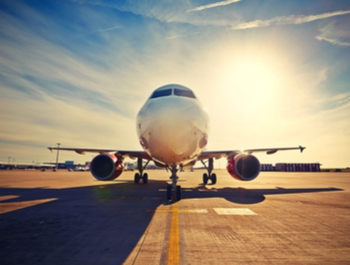 Flight Information
Real-time information of arrival and departure flights at Ohrid Airport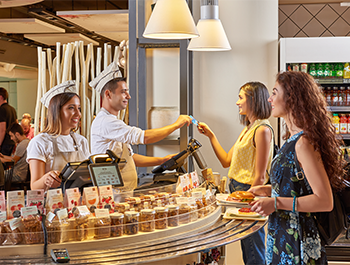 Shopping & Dining
See the full range of shops in our shopping universe. At the airport you'll find a great selection of shops within fashion, electronics, design and souvenirs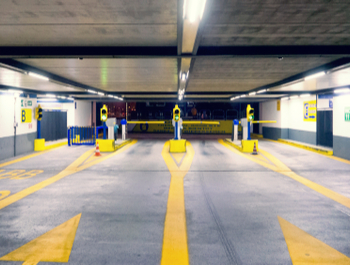 Parking
Your way to a secure parking space! Benefit from the attractive online parking offers of Ohrid Airport
Frequently Asked Questions
There is no regular shuttle bus for passengers to Ohrid St. Paul the Apostle Airport; there is only organized shuttle bus transportation within the arranged tours/seasonal (charter) flights by the local travel agencies.
Ohrid St. Paul the Apostle Airport is opened according to the flights timetable.
Check-in at the passenger and baggage check-in counters starts 180 minutes (3 hours) before the scheduled time of departure (STD) specified on your flight ticket. The closing time of the airport check-in counter is no later than 60 minutes before STD stated on your flight ticket.
Since the beginning of COVID–19 pandemic, due to the requirements for different travel documents imposed by different countries, TAV Macedonia appeals to passengers to arrive at the airport 3 hours before take-off.
For more information regarding flights, please visit the airport web-site, in the Arrivals and Departures section, where any change in the flights schedule is updated in real time, or, as soon as information from the airlines are received.
If you need urgent additional information about your flight, please contact the Information Desk on the following phone numbers:
++ 389 46 252 820
++ 389 46 252 821
++ 389 46 262 503
Passengers are allowed to carry items that are not additionally charged, such as the following: jacket, 1 umbrella or walking stick, 1 women's purse, 1 camera or binoculars, 1 baby transporter carry cot, 1 pair of crutches, or similar prosthetic mobility aids, medical equipment on which the passenger is dependent on, proper quantity of baby food.
Regarding the amount of the baggage charges, please contact your airline, because each airline has its own baggage policy and rules.
If you have any specific question regarding the allowed/prohibited items to be carried in the baggage, please send your question to our Customer Relations Department to the following e-mail: customer.mk@tav.aero
In case of lost or damaged baggage, please immediately go to the Lost & Found Department, which is located near the baggage claim area, i.e., in the Arrivals Area after Passport Control and before Customs Control.
Our employees from L&F will prepare a lost/damaged baggage report for you, that you'll later on send it to your airline. If you need to contact the Lost&Found department, please write us on:
dutyohd@tav.aero
For lost or found items on the plane, please contact us at the same email:
dutyohd@tav.aero
If you lose or find a personal item in the airport building, please report it immediately either to the Information Desk or to the Security staff, while if you have already left the airport, please write to us at
lostbaggage.ohrid@tav.aero
All details at:
http://ohd.airports.com.mk/en-EN/passenger-guide/airport-facilities-services/page/lost-luggage
It is not necessary for you to reserve a car park lot in advance.
Ohrid St. Paul the Apostle Airport car park pricelist:
PARKING

Up to 1 hour

1 – 2 hours

2 – 3 hours

3 – 4 hours

4 – 8
hours

8 – 12
hours

12 – 24 hours

3 – 7 days

Car

90

120

150

180

230

270

600

1.500

Bus

250

400

500

600

800

1.000

1.600

4.000
For traveling with a pet onboard an aircraft, passengers are required to provide all necessary documents and vaccines for the pet prior to their travel. For more detailed information please contact your airline.
Certain airlines do not allow pets onboard the aircraft, except for assistance dogs. Proper travel documents are required to be submitted for these dogs.
Currently – no. At Ohrid St. Paul the Apostle Airport, smoking is allowed only at the open bar terrace located in front of the terminal building.
For any other question that does not require immediate response, or if you have any other complaint or compliment, please send an e-mail to:
customer.mk@tav.aero
. This is our Customer Relations Department, and our staff will respond to you accordingly as soon as possible.