Covid19: Travel Safe
- All the used equipment in the duty free that comes in contact with the customers, shall be disinfected frequently.

- Guiding signs for the prescribed physical distancing (1.5m) in the shop area for all present persons are placed.

- We encourage customers to use only contactless credit or debit card.

- Entrance is free for everyone. There is a Big Alcohol Based disinfectant liquid machine on the main entrance of the shop
TAV Macedonia, as an airport operator, acts in accordance with the state institutions in the countries where passengers travel, the airports border authorities and the rules and regulations of the airlines.
For travel document information and requirements by the country you want to arrive in and / or COVID tests requirements, please contact the Embassy of that country as well as the airline you will be traveling with.
Given the fact that TAV Macedonia as an airport operator is not responsible for determining and setting the rules for entry/exit into/from the country, as it is responsibility of the Border Police, which has the authority of Passport Control at airports, we would kindly ask you to contact the Ministry of Internal Affairs of R.N. Macedonia
https://mvr.gov.mk/default
, as well as to the Ministry of Health
http://zdravstvo.gov.mk/
and the Government
https://vlada.mk/
, where it is decided for these rules related to the Covid-19 pandemic.
- We regularly and timely apply all measures of the Government and the Ministry of Health, as competent state institutions. Of course, we also follow the experiences of other airports around the world and the recommendations of the World Health Organization (WHO), the European Union Aviation Safety Agency (EASA), the International Civil Aviation Organization (ICAO), the International Airports Council (ACI) and the International the Air Transport Association (IATA), all in order to take appropriate action in a timely manner as conditions change in this global pandemic.
- It is not mandatory for passengers to wear a face protective mask inside the terminal building of the airport, as of 3.5.2022, as per the changes and amendments in Covid-19 measures adopted by the Government of North Macedonia https://vlada.mk/node/28642. According to these changes, there is no obligation for citizens to wear a face protective mask in all closed areas, except in health institutions, pharmacies, public transportation (bus, railway, airplane, and taxi) and in institutions for care of old persons and persons with disability. Regarding the flight rules, passengers should follow the requirements of the airline with which they travel.
- Despite the existence of the online registration option, due to the new Covid-19 restrictions, passengers are obliged, upon their arrival at the airport, to register at the check-in counters, to check and verify the documents required to enter the country in which they travel, as well as to check-in their luggage.
- Passengers will need to follow the instructions of security agents in a disciplined manner, and there, as in all procedures where queues are expected, it will be necessary to keep a physical distance of at least 1.5 meter.
Entering the terminal building of Ohrid airport is allowed without limitations/requirements connected to covid-19, as of 3
rd
May 2022 when the Government of N.Macedonia adopted the Decision (
https://vlada.mk/node/28642
) for lifting all covid-19 related protective measures except for wearing protective masks in certain institutions.
Due to the fact that covid-19 related requirements for different travel documents are still valid by certain countries, and which must be checked by our staff at the Check-In counters, please be informed that we strongly recommend to our passengers to arrive at the airport 3 hours before the scheduled flight.
In case you would like to perform a covid-19 test at one of the facilities by the two laboratories at the airport, please arrive at the airport earlier than 3 hours according to the required time for delivery of the test, that you should check with the adequate laboratory.
- Business and VIP lounge areas are cleaned and disinfected as prescribed by public health authorities with increased frequency based on the air traffic.
- There are available multiple self-hand sanitizers, alcohol-based with adequate signage for passengers.
- There is a self-service option with purpose all passengers to have limited contact with staff.
- Frequent disinfection of products that are often in contact with staff and passengers

- The tables and chairs are cleaned / disinfected after their use.

- Тrays and plates will be removed from common areas, they'll be given to guests by the service staff
- Passengers should arrive at the airport at least 3 hours before their flight, as check-in counters close at least 1 hour before departure time. This means that passengers must have completed the check-in procedures at least 1 hour before take-off, and then the Passport Control and Security Checking procedures, in order to arrive on time in the boarding area, i.e., at the Gates.
Useful Information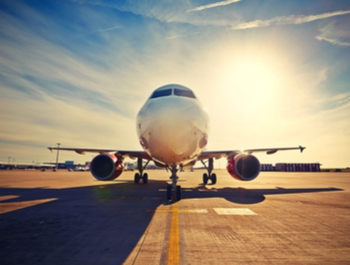 Flight Information
Real-time information of arrival and departure flights at Ohrid Airport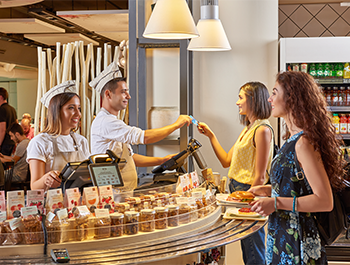 Shopping & Dining
See the full range of shops in our shopping universe. At the airport you'll find a great selection of shops within fashion, electronics, design and souvenirs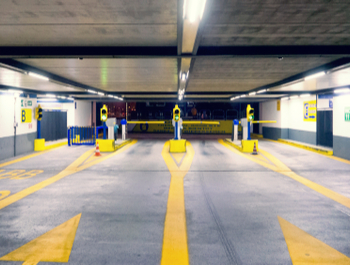 Parking
Your way to a secure parking space! Benefit from the attractive online parking offers of Ohrid Airport
Frequently Asked Questions
There is no regular shuttle bus for passengers to Ohrid St. Paul the Apostle Airport; there is only organized shuttle bus transportation within the arranged tours/seasonal (charter) flights by the local travel agencies.
Ohrid St. Paul the Apostle Airport is opened according to the flights timetable.
Check-in at the passenger and baggage check-in counters starts 180 minutes (3 hours) before the scheduled time of departure (STD) specified on your flight ticket. The closing time of the airport check-in counter is no later than 60 minutes before STD stated on your flight ticket.
Since the beginning of COVID–19 pandemic, due to the requirements for different travel documents imposed by different countries, TAV Macedonia appeals to passengers to arrive at the airport 3 hours before take-off.
For more information regarding flights, please visit the airport web-site, in the Arrivals and Departures section, where any change in the flights schedule is updated in real time, or, as soon as information from the airlines are received.
If you need urgent additional information about your flight, please contact the Information Desk on the following phone numbers:
++ 389 46 252 820
++ 389 46 252 821
++ 389 46 262 503
Passengers are allowed to carry items that are not additionally charged, such as the following: jacket, 1 umbrella or walking stick, 1 women's purse, 1 camera or binoculars, 1 baby transporter carry cot, 1 pair of crutches, or similar prosthetic mobility aids, medical equipment on which the passenger is dependent on, proper quantity of baby food.
Regarding the amount of the baggage charges, please contact your airline, because each airline has its own baggage policy and rules.
If you have any specific question regarding the allowed/prohibited items to be carried in the baggage, please send your question to our Customer Relations Department to the following e-mail: customer.mk@tav.aero
In case of lost or damaged baggage, please immediately go to the Lost & Found Department, which is located near the baggage claim area, i.e., in the Arrivals Area after Passport Control and before Customs Control.
Our employees from L&F will prepare a lost/damaged baggage report for you, that you'll later on send it to your airline. If you need to contact the Lost&Found department, please write us on:
dutyohd@tav.aero
For lost or found items on the plane, please contact us at the same email:
dutyohd@tav.aero
If you lose or find a personal item in the airport building, please report it immediately either to the Information Desk or to the Security staff, while if you have already left the airport, please write to us at
lostbaggage.ohrid@tav.aero
All details at:
http://ohd.airports.com.mk/en-EN/passenger-guide/airport-facilities-services/page/lost-luggage
It is not necessary for you to reserve a car park lot in advance.
Ohrid St. Paul the Apostle Airport car park pricelist:
| | | | | | | | | |
| --- | --- | --- | --- | --- | --- | --- | --- | --- |
| Parking duration | Up to 1 hour | From 1 to 2 hours | From 2 to 3 hours | From 3 to 4 hours | From 4 to 8 hours | From 8 to 12 hours | From 12 to 24 hours | From 3 to 7 days |
| Price in MKD | 70 | 80 | 100 | 120 | 130 | 200 | 400 | 1200 (every next hour is charged 70 ) |
For traveling with a pet onboard an aircraft, passengers are required to provide all necessary documents and vaccines for the pet prior to their travel. For more detailed information please contact your airline.
Certain airlines do not allow pets onboard the aircraft, except for assistance dogs. Proper travel documents are required to be submitted for these dogs.
Currently – no. At Ohrid St. Paul the Apostle Airport, smoking is allowed only at the open bar terrace located in front of the terminal building.
For any other question that does not require immediate response, or if you have any other complaint or compliment, please send an e-mail to:
customer.mk@tav.aero
. This is our Customer Relations Department, and our staff will respond to you accordingly as soon as possible.