Health and Safety (COVID-19)
Since the start of the pandemic back in 2020 until present, TAV Macedonia, as airport operator of both airports, Skopje International Airport and Ohrid St. Paul the Apostle Airport, is doing its best to reassure you that you can feel safe while traveling through our airports.
Aviation industry's best practices coupled with the national and international health authorities' recommendations have been mirrored into the Airport Pandemic Protocol serving as our guide to protect and to make safe and healthy environment for our personnel and for our passengers and clients.
We have committed our efforts and know-how to make out airports safe for your journeys and for your new adventures again.
Our cleaning, disinfection and hygiene maintenance plan is designed in a way that you should not have any concern for your health and safety while at the airport.
Our experienced staff is here to guide you and assist you, to ensure healthy and safe environment for you.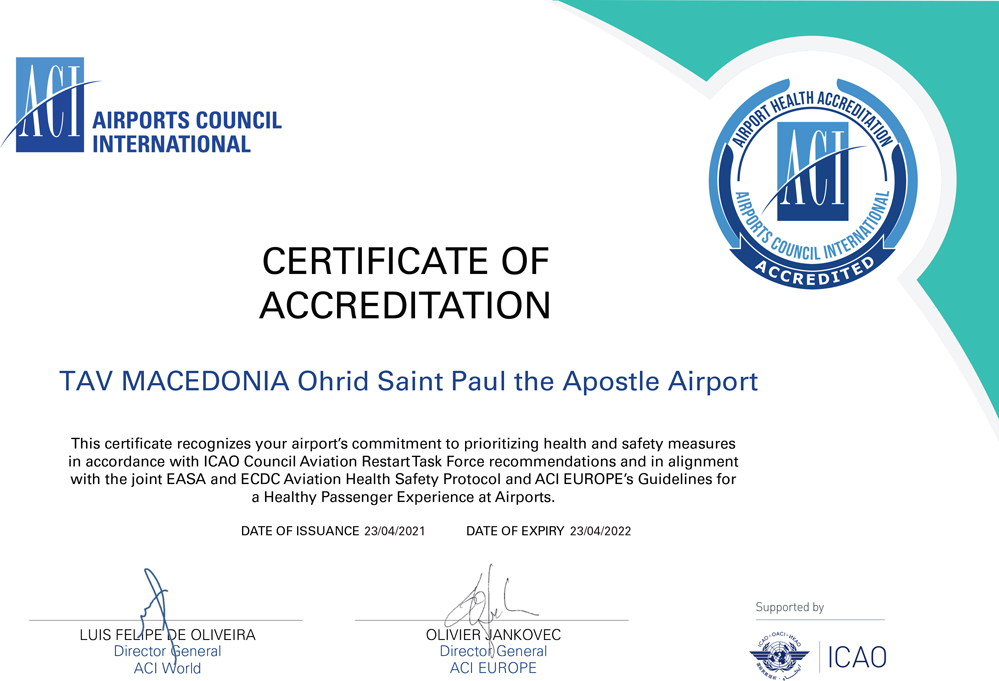 OHRID AIRPORT HEALTH ACCREDITED BY ACI

As a result of the implementation of the new Airport Pandemic Protocol TAV Macedonia has implemented, Airports Council International (ACI) accredited Ohrid St. Paul the Apostle Airport in ACI's Airport Health Accreditation Program.
The Health Certificate is a new international health benchmark for airports around the world, designed to help reassure the travelling public that airport facilities remain safe and that precautions are being taken to reduce any risk to their health.

COVID-19 TESTING AT OHRID ST. PAUL THE APOSTLE AIRPORT
With the start of the summer flights schedule at Ohrid St. Paul the Apostle Airport and due to the requests by many countries for a mandatory negative COVID-19 test as a requirement to get onboard, TAV Macedonia, as an airport operator with the clients and customers being its top priority, now provides the opportunity for COVID-19 tests for traveling, rapid antigen tests performed at Ohrid Airport shortly before passenger's departure.
In the immediate vicinity of Ohrid St. Paul the Apostle Airport terminal building, there are testing facilities of authorized laboratories where passengers can perform the required COVID-19 test and obtain the COVID-19 test result within 20 to 30 minutes of sampling.
For detailed information about the tests accepted by the countries of EU / Schengen, please contact your
airline
and the
Embassy
of the country of your arrival.
If you decide to perform a rapid antigen test at Ohrid St. Paul the Apostle Airport, please arrive at the airport at least 4 hours prior the departure time of your flight.
Given that the EU/Schengen countries are constantly changing their travel rules related to COVID-19 and each country independently makes changes in terms of restrictions for the citizens of the Republic of North Macedonia, we appeal travelers to check the latest requirements with their
airline
and the
Embassy
of the country they plan to arrive.